Ralph Lundsten – pioneer in electronic music
Ralph Lundsten was born on October 6, in 1936 and grew up on the old Hääsch-farm ,"Hääschgården", that today is named after him and therefore called Ralph Lundstengården. 
World-renowned composer
Ralph, a world-renowned composer, was actually one of the first in the world to compose electronic music.
He has always emphasised the light of the north and the environment, in which he grew up, as an abundant source of inspiration. In his music he illustrates the old folk belief where we meet the water spirit "Näcken", forest nymphs, elves, trolls and fairies. 
His music also depicts outer space. The music has been featured both in movies and TV. Perhaps you know one of Ralph Lundsten's most played pieces – The signature theme of Radio Sweden "Into the wide world".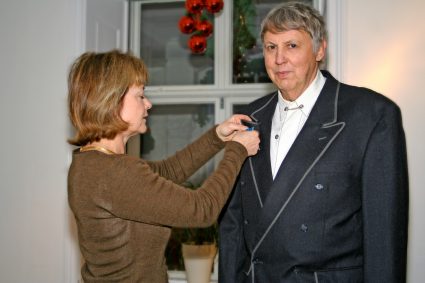 Bildtext: Ralph Lundsten was awarded "Illis Quorum Meruere Labores" in 2009. A medal awarded by the Government of Sweden for cultural, scientific and other public service purposes. The inscription means, "For those whose labours have deserved it."  
In total he has composed an impressive amount of pieces, such as opuses, records and ballets. He has also been presented with numerous awards within the film and music business. Ralph has also had an art exhibition at the Louvre in Paris, and written a few books as well. 
It is also possible to buy his music and books, and sit by his big, black organ from the early 1900s. There is also an exhibition about him and his artistry on the second floor.