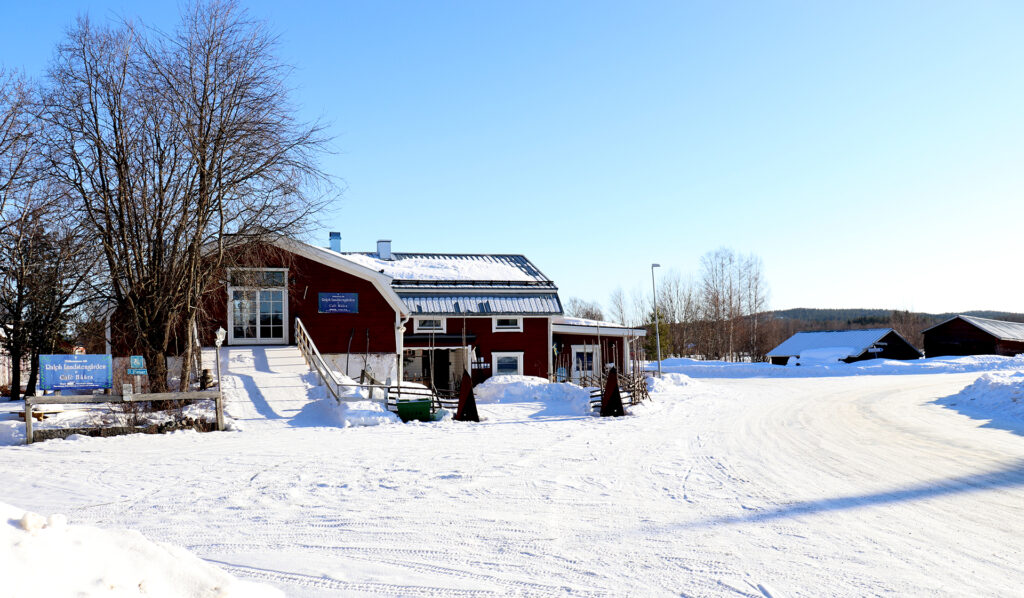 Ralph Lundstengården – a place for the unique meeting
A farm with a history stretching as far back as the 1700s. The famous composer Ralph Lundsten grew up here. The restaurant is located in the Stone Barn, where we have created a unique environment. The atmosphere is virtually magic. Upstairs you find the Hayloft, with its lovely timber walls and conference facilities.
Ralph Lundstengården and the old farm name "Hääshgården" dates as far back as the 1700s. The farm is situated by the winding, old coastal road in the village of Ersnäs, in-between Luleå and Piteå.
Once upon a time it was a large and renowned homestead, a so-called Norrbotten farm with a barnyard. 
HOW IT ALL STARTED
In 1997 Kristina Holmberg, a schoolteacher originating from Ersnäs, saw Hääschgården's potential. She had been informed that the famous composer's childhood home was vacant, and she had for a long time had a vision of a cultural centre.
She wrote a letter to Ralph Lundsten, telling him about her ideas and suggesting a purchase of the farm, where his history and name would be the foundation. 
Ralph called her already the same day, giving her positive news!
And July 11, 1998, Ralph Lundstengården had its grand opening as a restaurant, with a party and conference facility.
The first few years the restaurant was located in the old Norbotten farm. In 2005 it was then moved to the beautiful stone barn and the hayloft.
After an extensive and careful renovation, of what used to be a cowshed with a hayloft, the new location is what characterises the present restaurant. Solid, 40 inch, stone walls downstairs and timber walls upstairs offer a magical feeling of past times' genuine and rural spirit and environment.
THE FARM TODAY
Ralph Lundstengården has many reoccurring traditions such as the archipelago buffet, the Christmas fair and the Christmas smorgasbord.
The wedding receptions are frequent and the conferences in the rural environment are much appreciated.
We put great emphasis on the genuine, rural and local, the village history and the farm's history, both regarding atmosphere and fresh ingredients. It is important for Kristina, who both owns and runs the restaurant, to maintain the history of the farm, and the restaurant has for many years been part of Sweden's leading restaurant guide The White Guide.
The most successful and interesting sights often have a very close connection to ones own heritage, the countryside and the nature. Many years ago I realised that Ralph Lundstengården was in fact one of those sights. As it also corresponded with my own interest in cultural history, nature and the countryside the mission statement was ready! The unique and inspiring environment was going to become a place for culinary experiences, parties, conferences, representation and other important meetings, and so it has.  – Kristina Holmberg, Ralph Lundstengården
You are most welcome to contact us!