Snowmobiling, northern light tours, snowshoeing, outdoor cooking and more
Our village and the nature around is very good for activities. We are cooperating with Explore Luleå who provides a lot of activities. For example, they have snowmobiling, northern light tours, snowshoeing, outdoor cooking and more.
You find them here: www.explorelulea.com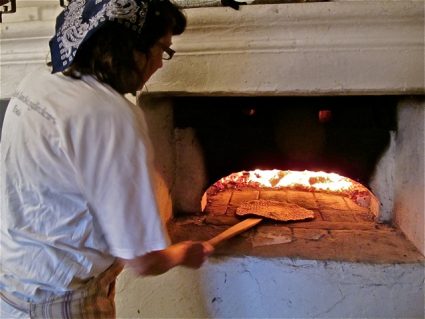 In the farm's wood-fired owen you have an opportunity to bake bread together, just as in past times. A much appreciated activity.
In the cosy wooden hut we make coffee in an old-fashioned way. Together we grind the coffee beans in the coffee-grinder and then enjoy a real cup of boiled coffee with traditional coffee-cheese. Whilst enjoying our coffee the characters "Mor Stina" or "Vassnäsgubben" offer exciting stories about both people and beast.
Capacity: 12-14 participants.
In this activity you are split into teams. You have to find the correct vagabond marks that once upon a time were carved by ranging people; find out what the old objects have been used for; try your knowledge amongst the garden plants; pay the "bird house" a visit and finally saw your own drink coaster for the dinner. Prizes for the best team!
Hike on the diverse and well-marked trail through our cultural landscape on Hemberget and its surroundings. Hike with a guide and prepared lunch pack, or on your own. Once back at Ralph Lundstengården there is a possibility for further activities, or why not finish off with a lovely dinner!
Get to know Ralph Lundsten
The shepherd boy who became one of the masters of electronic music. A fascinating story about the composer Ralph Lundsten, the farm and its people.
Group activity with a lot of laughter!
"The Challenge" is about completing as many challenges as possible within a certain time frame. The team completing the most challenges when time is up has won and can simply be a bit cockier for the rest of the day! All team members are active, but it is a low-intensity activity.
Electronic shooting range
Challenge your friends in our advanced, but completely safe electronic shooting range, an appreciated activity where you shoot at an electronic target.